LOVE YOUR LAWN
Our Servicess
Enhance Your Plano, TX Home With Our Landscaping Services.
Aesthetics are our first priority. That's why we seek a leading industry team to provide Plano and its surrounding areas with eminent landscapes that are both beautiful and sustainable.
You can depend on consistent horticultural practices and excellent customer service with Village Green.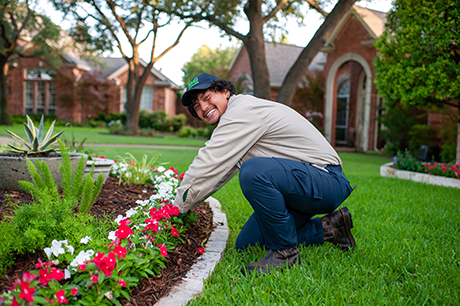 We have the knowledge, equipment, and talented team who can create the landscape of your dreams.
A lawn and irrigation system is one of the best investments for your lawn's overall health.
Let us be your lawn team!
Why Choose Us
In addition to delivering results, we are locally owned and family-operated, offering the highest level of customer service. Local experience you can trust.
Free Consultations
We offer free consultations for our services, and will provide you with an accurate quote.
Professional Team
We understand that customer satisfaction starts with dependable service, so we use our own employees that are well-trained and experienced.
Dependable Services
We love to take pride in the work we do. Each project is finished on time and budget!
Reputation of Excellence
Trimmed to perfection and designed with care, the expert landscape crew at Village Green keeps your yard beautiful all year long.
Locally Owned & Operated
With over 40 years of experience in North Texas and driven by honesty, integrity, and a high code of ethics.
Eco-Friendly Services
Our goal is to create sustainable landscape designs that will support the environment by saving time, money, and energy.
VILLAGE GREEN
Bring Green To Your Home
Village Green provides full & comprehensive services in lawn health plans, irrigation repair & maintenance, and landscape design and installation. Today, we have grown into a full-service landscape with residential clients throughout Plano, Texas. We take pride in customizing our services to meet the needs and budgets of each individual customer. 
Village Green is a family-owned and operated lawn and landscape business dedicated to growing people, plants, and relationships. 
OUTDOOR SPACES YOU'LL NEVER WANT TO LEAVE
Featured Projects
We have done over 1,000 successful projects, which is a significant milestone.
We're proud of our services and excited to bring you your new favorite place to be.
That's why we showcase all our projects, so you can trust that our landscaping is as visually beautiful as comfortable.
Let's see what we've accomplished.
testimonials
Why Our Customers Love Us!
"I had lots of weeds and a large number of bare spots in the lawn. Since I started the service the weeds are down to just a few and they are even almost dead. The bare spots are filling in the overall lawn is look so much better Lawn is still doing great, happy with the service and would recommend for someone that needs lawn care services."
"These guys are the single best landscaping company in Plano. Maybe the entire state. They have awesome experience with native plants, trees, and grass and have done beautiful landscaping work at our house on three occasions. Thanks Village Green!"
"I have used Village Green for several lawn care related tasks and have found their folks are very knowledgeable and do very professional work. The prices are very competitive too. I highly recommend Village Green."
"Great company! If you have any questions, they are very responsive. Love having them do our lawn fertilizer and weed control."
"I needed help getting my yard ready to sell my home and had a few irrigation leaks. Village Green was super helpful, very responsive, and a great overall value. Would definitely recommend!"
"So nice not to have to worry about when my fertilizer should go down. After re sodding our lawn twice, we knew we needed a pro to keep our lawn in check. So far, it's a good value for our investment. People are always very professional and friendly."
"Village Green did an outstanding job for me recently. I needed to have all of my landscaping beds worked on. They removed some dead shrubs and added some new plants that Hannah had recommended and added dirt and mulch so the levels were appropriate in all of the beds. The crew did a great job. I have used Village green for all of my yard work for many years and they are the best by far. I highly recommend them."
"These folks care about my yard. More than once, Kem or one of the staff has come by, "just to check on things". They are great people!"
"After new landscape was installed last year, Village Green reconfigured part of our irrigation system and added a new zone. Lee listened to our concerns and went to work. Work was completed to our satisfaction. This year we contracted with Village Green for a Sprinkler System Maintenance package. Lee has come quarterly to inspect all zones and make necessary repairs. Lee is very knowledgeable, thorough and professional. We appreciate the quality of his work. Thank you!"
"Our grass is looking very green and all the weeds have mostly been taken care of. They even came and addressed an armadillo problem we had been dealing with. The technicians are always friendly and on time and wouldn't hesitate to recommend Village Green to others."
All things grow with love.
Growing Plants • Growing People • Growing Relationships
Frequently Asked Questions?
Do you have a question for Ken Hyatt, our Founder, and President?
GREENTALK BLOG
A Great Source About Improving Your Lawn And Landscape
Want to know more about lawn related issues in North Texas, or how you might fix a particular lawn or landscape issue on your own property?