THE GREEN TEAM
It's Nice To Meet You!
Serving Plano for Over 40 Years
It's hard to believe that this is Village Green's 43rd year in business. My family and I started the Village Green to make pocket money when I was only 14, and my brother Keith wasn't much older. Mom helped us during the week, and Dad (who worked at JC Penney's then) assisted on the weekends.
To commemorate our 40th anniversary, we gathered the Hyatt family together to record stories of the early days of Village Green. We asked questions about what has changed the most over the years.
There are some great stories in these videos. One of my favorites is how Dad didn't want to embrace what was then a new-fangled contraption. The lawn blower! Dad embraced the 'new' technology when we told him he could push the broom. 
So much has changed over the years, but one thing has remained constant, Village Green is a family-owned and operated lawn and landscape business dedicated to growing people, plants, and relationships. 
Ken Hyatt
Owner/ President
WE'RE HIRING! JOIN THE GREEN TEAM.
All things grow with love.
GROWING PLANTS • GROWING PEOPLE • GROWING RELATIONSHIPS
LOVE YOUR LAWN
Our Services
Enhance Your Plano, TX Home with Our Landscaping Services.
Aesthetics are our first priority. That's why we seek a leading industry team to provide Plano and its surrounding areas with eminent landscapes that are both beautiful and sustainable.
You can depend on consistent horticultural practices and excellent customer service with Village Green.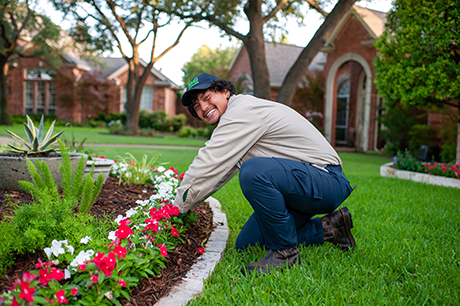 We have the knowledge, equipment, and talented team who can create the landscape of your dreams.
A lawn and irrigation system is one of the best investments for your lawn's overall health.